Plan for the Future with Metal Roofing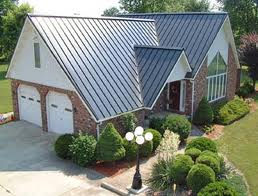 When it rains, it does more than pour. Sometimes it hails, too. Metal roofing from Metals Direct, Inc. gives the greatest protection to your home or business without sacrificing attractiveness. Our metal roofing stands up to the weather better than traditional roofs, avoiding ongoing maintenance or repeated calls from a roofing company.
Metal Direct, Inc. painted metal roofing panels or stone-coated tiles are impact resistant, fire resistant and saltwater resistant. Our tiles start with a galvanized steel base with an acrylic binder applied before the addition of stone chips. The metal roofing panels can be installed without removing your old roof and last up to 3 times longer than regular shingles. Each come in a variety of colors and styles to meet your decorative needs.