RV Covers Come in all Sorts of Colors and Sizes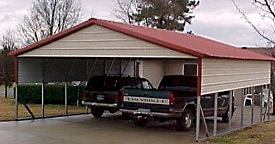 Are you tired of paying to park your rig? Put an end to storage fees, key cards and security gates with an RV cover from Metals Direct, Inc. Our RV covers make great portable shelters for motor homes, travel trailers and more. Find out what plenty of satisfied customers already know about our metal building products.
You can get all the protection you need without the high price tag. Metals Direct, Inc. RV covers and carports meet local wind and snow load requirements. Our standard roofs feature a 3:12 pitch to withstand 150 mile per hour winds and up to 60 pounds of snow per square foot. Our framing systems used on our RV covers consist of heavy-gauge steel for maximum lifespan.