Enjoy the Service of Your Metal Roofing for More Years Through Proper Routine Upkeep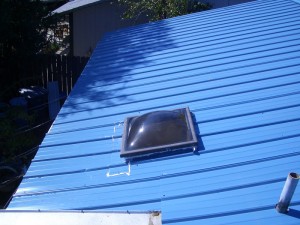 Without a doubt, metal roofing is one of the best roofing options available for homeowners and builders alike. It is light both on the roof and in the pocket, not to mention that it is friendly to the environment. Whether it is molded to mimic the look of ceramic tiles or applied as ridged sheets, metal roofing provides unmatched protection to the property and occupants against inclement weather, fire, termites and molds.
If your house is outfitted with a metal roofing, you can attest to the numerous benefits such roofing system can bring. Since it is a valuable part of your property that serves as your first line of defense against varied elements, it is important that you look after its maintenance needs. This way, you can be assured that you will enjoy its service for many years to come. Below are some upkeep solutions that will add years to your metal roof's life.
Keep it spic and span
As with all types of roofs, your metal roofing is frequently exposed to varied weather conditions, dirt, leaves and other particles. Over time, these materials will accumulate adding weight to your roof and making it look less than appealing. They can also clog gutters and downspouts, which if left unattended can lead to leaks. To avoid these things, clean your metal roof at least twice a year.
You may choose to do the cleaning yourself or hire a professional roof cleaner to tackle the job for you. If you prefer to do the job on your own, make sure to sweep or blow off debris that have gathered on the surface and also remove the buildup in gutters and downspouts. If the debris are quite difficult to remove, scrub the roof with a stiff brush and water to clean the area.
Take note that the surface of metal roofs are relatively thin and cannot support too much weight. So while cleaning do not stand on the roof to avoid denting or damaging the panels. If you need to walk through the roof, do it on the joists and purlins, which serve as the horizontal support system of the roof.
Inspect, repair, replace
While cleaning your metal roof, inspect it for possible damages and address the problems immediately if you found any. Tighten loose screws or if you need to replace those that were dislodged, choose screws that are made from the same metal as your roof. Replace sealants and fastener gaskets that have reached their expected service lives and repair holes and seams to prevent leaks. Also, make sure that no other types of metals are touching your roof, as chemical reactions between two different metals can invite corrosion.
Touch up the paint
Metal roofs are actually manufactured with a special coating that makes them resistant to rust and corrosion. However, with prolonged exposure to different weather the coating can eventually deteriorate. So to keep rusting and corrosion at bay give your metal roof at least two coats of protective paint.
The content above was written by one of McIntyre Masonry's regular contributors. McIntyre Masonry is a family run business that offers a full range of Stonemasonry services throughout Scotland.