Incorporating a metal building into the grounds of your home is a fantastic way to create extra room for your personal needs.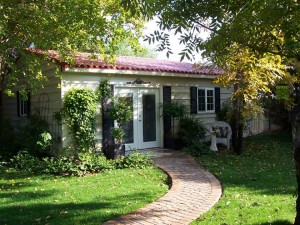 From a spacious garage or workstation to a home gym, your metal building can provide you with extra room to achieve your household needs! In this article we'll take a look at just a few great examples of how to make the most of these fantastic metal structures.
The Garage
Adding a garage extension onto the side of your home can be very technical and yields many potential problems which can cost more money than the initial building fee. Adding a steel garage is much simpler, quicker and still offers the complete weather tight protection your vehicle needs. Garages double up brilliantly as workstations too, so adding your tool kit and workbench to your spacious garage will ensure you have a headquarters for those tricky DIY projects.
Alternatively for those large RVs and other large vehicles, metal carports provide ample shelter from harsh winds and rain, covering the vehicle from above and the sides.
Living Space
Metal buildings are fantastic for creating extra living space too; whether you're looking to add an extra room for guests or simply provide more space for your family, metal buildings provide a safe and spacious place to create an extension of your home. Adding a cosy bedroom, a homely lounge and a luxurious bathroom suite can complete a living space which meets every need a guest could wish for outside of the main house.
Adding stylish touches such as contemporary lighting, ample entertainment for the evenings (such as a working television and DVD player), sleek bathroom furniture and attractive furnishings will bring the new living space together so that any guest or family member would be happy to spend the night in. It can also come in really useful if an elderly relative needs to move in with you or to give older children their own independence before finding their own place. You could even find yourself a lodger to yield a bit of extra income!
Home Gymnasium
Those who have attempted to stick to a rigorous home workout routine are sure to know how awkward pushing weights, storing equipment and bouncing around can be inside the house. With the space that a steel structure offers, you are free to create a space to create a home gymnasium dedicated to your home workout. Hang punch bags, set up chin-up bars and introduce a treadmill to create a private space in which you can work out in your own time and in a place that is convenient for you. This is particularly handy for those who live in secluded areas where the nearest gym is a car journey too far!
If your metal building is quite spacious you could even incorporate your own wetroom or showering area to really create that 'gym' experience right on your doorstep!
The uses for steel buildings and garages are almost countless, but one thing is for sure; if you are looking for a quick and cost effective way to create extra space on your property, steel buildings are right for you!